Aleksander Praprotnik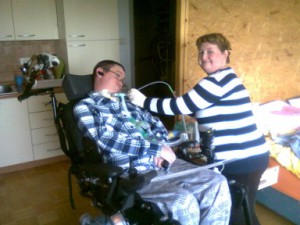 Opis zgodbe s človeškim obrazom
Aleksander Praprotnik je star 33 let in ima mišično distrofijo. 8 let je stanoval v Domu starejših občanov Bežigrad, na Oddelku mlajših invalidov (OMI) in vse je kazalo, da bo to njegov končni dom.
Vsakodnevno uporablja električni voziček, ki ga upravlja z usti. Na dihalni aparat je priključen 24 ur na dan. Za vsa osnovna življenjska opravila, drugo nujno pomoč, ki je povezana z njegovim hendikepom in aspiracije, potrebuje pomoč drugega. V domu je bilo njegov življenje zreducirano na minimum. Obsojen je bil na strah in čakanje, da potrebna pomoč pride še pravočasno.
Edina pozitivna stvar, ki jo lahko pove o DSO Bežigrad je, da je tu spoznal svojo partnerico. Leta so hitro minevala. Oskrbovalni standard v domu se je stalno nižal, prav tako tudi kvaliteta in zadovoljstvo bivanja. Njegovo obolenje stalno napreduje, zato tudi ni mogel več čakati. S partnerico sta se odločila, da zaživita na svojem. Našla sta si stanovanje v Ljubljani. Aleksander je mlad in zaljubljen. Ima veliko volje do življenja, a v domu je normalno, partnersko življenje, praktično nemogoče.
YHD-Društvo za teorijo in kulturo hendikepa Aleksandru zagotavlja dva osebna asistenta za samostojno in neodvisno življenje v skupnosti. Z osebno asistenco mu je življenje veliko lažje. Za gibanje po Ljubljani sedaj lahko uporablja LPP v spremstvu svojega osebnega asistenta. Bivanje v DSO mu to ni omogočalo. Prehrana je občutno slastnejša, saj si kuha sam. Z osebnim asistentom skupaj nakupujeta sestavine za kuho, asistent pa s pazljivim poslušanjem in izvajanjem navodil skuha dobro jed. V instituciji je bil Aleksander glede osebne higiene in nege večkrat zanemarjen. Teh težav sedaj nima. S pomočjo osebnih asistentov zadovoljuje svoje potrebe takrat, ko se pojavijo in ni več vezan na točno določen urnik, ki ga predpisujejo institucije. Osebna asistenca je storitev v skupnosti, ki je Aleksandru omogoča življenje izven institucije in mu prinesla čisto nov pogled na življenje.
Kako je vsebinska mreža pripomogla k uspešni zgodbi / kakšna je bila njena vloga?
Člani vsebinske mreže svojim uporabnikom nudimo storitve v skupnosti za samostojno življenje izven institucij. Storitve v skupnosti, ki jih nudimo svojim uporabnikom, vzpodbujajo deinstitucionalizacijo v Sloveniji. YHD – društvo za teorijo in kulturo hendikepa svojim uporabnikom nudi osebne asistente za neodvisno življenje izven institucij. Uporabnike seznanjamo o neodvisnem in samostojnem življenju v skupnosti s pomočjo osebne asistence. Vzpodbujamo njihove odločitve za prehod v samostojno življenje, nudimo jim nasvete in pomoč pri izhodu iz institucij in zagotavljamo osebne asistente, s pomočjo katerih uporabnik zaživi življenje na svojem in v skupnosti.
Zakaj je delovanje vsebinske mreže pomembno tudi v prihodnje?
Vsebinska mreža NVO za deinstitucionalizacijo je mlada mreža in povezuje NVO, ki svojim uporabnikom nudimo storitve v skupnosti za samostojno življenje. Mreža in njeni člani zagovarjamo deinstitucionalizacijo in jo s podpornimi storitvami v skupnosti tudi omogočamo. Ker je mreža tako rekoč šele zaživela, se trudi vzpostaviti nabor različnih storitev v skupnosti za različne uporabnike, da bi zaživeli samostojno, izven zidov institucij. V prihodnje želi mreža združiti čim več teh storitev in ozaveščati uporabnike o teh storitvah, da bi jim zagotovili enakopravno in nediskriminatorno življenje v družbi.

Kontakt mreže
MDI – Mreža za deinstitucionalizacijo
Sedež: Neubergerjeva 7
Pisarna: Grablovičeva 62
SI-1000 Ljubljana
T: 01/521-22-77
M: 051-435-296
W: www.za-mdi.si
E: info@za-mdi.si
FB: www.facebook.com/groups/1576654565889647/