Matjaž Žvan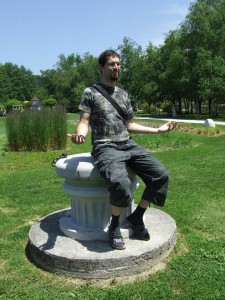 Opis zgodbe s človeškim obrazom
Matjaž Žvan, 32, prihaja z Gorenjske in živi v Ljubljani. Zadnja tri leta je zaposlen v invalidskem podjetju na področju proizvodnje. A pot do tja ni bila lahka. Kot sam pravi, je bila to »trnova, dolga pot zaradi številnih postopkov. Preveč papirne vojske.« Pri tem se je nekaj let usposabljal, a mu za ta čas ni priznana delovna doba. Potrebno bi bilo, da se ta prizna, meni. »Postopek je bil dolgotrajen, ker je bilo pri vsaki instituciji potrebno iti od začetka. Tako je na Zavodu za zaposlovanje trajalo 2 meseca, da sem bil prijavljen na naslednji razgovor. Postopek se je podaljšal tudi zaradi vmesne menjave vlad in pomanjkanja denarja v proračunu na začetku leta.«
Pred tem je delal na različnih področjih kot varnostnik, v sitotisku idr. V Zaposlitvenem centru Zarja je opravil usposabljanje v okviru zaposlitvene rehabilitacije in se zaposlil.
Svojo pot do Šenta opisuje takole: »Ko sem opustil študij, sem prvič poizkusil z delom, ampak sem bil še preveč bolan, da bi zmogel kaj dalj časa na delu in sem obležal. Nato sem delal na črno, po usposabljanjih, v livarni, … Karkoli se je dalo. V tem času sem tudi prišel do tega, da vzdržim delo v malo prilagojenem okolju in da se želim odseliti od doma. Nekaj časa sem živel v Kamniku, nato pa v Ljubljani. Pri iskanju zaposlitve in drugih problemih so mi pomagali člani Šent-a in Šentprime v Ljubljani. Tako sem se pri 24. letih vključil v dnevni center Šenta v Radovljici. Takrat sem začel z zaposlitveno rehabilitacijo. Moj cilj je bil selitev od doma in zaposlitev. Oboje sem sedaj dosegel.«
V času urejanja formalnega statusa je bil leto in pol vključen v program Mreža stanovanjskih skupin, ki ga je sofinancirala občina in zahtevala tudi rezultate. »Teh pa seveda nisem mogel pokazati, ker so postopki še trajali. Absurdno je, da te delo nekje že čaka, pa ne moreš začeti z delom, ker imaš formalno neurejen status. Vse to vpliva tudi na psihično stanje človeka. Brez Šenta mi ne bi uspelo. Zelo sem hvaležen za vse, kar so naredili zame. V ljubljanski enoti so zelo profesionalni.«
Ana Ivanišević Valetič, njegova ključna oseba, ko je bil g. Matjaž Žvan še v stanovanjski skupini, doda, da Šent ponuja možnost spremljanja človeka in nudi podporo tudi takrat, ko se zdi, da je bolj malo upanja. To sta večkrat doživljala pri urejanju papirologije, kjer je prevzela pomembno vlogo urejanja dokumentacije, da se je g. Matjaž lahko osredotočil na bistvene stvari. Danes sodeluje s koordinatorico Obravnave v skupnosti na CSD poklicne rehabilitacije.
Andreja Ivanišević Valetič dodaja še ključne predloge za olajšanje položaja iskalcev zaposlitve pod prilagojenimi pogoji: »Potrebni so hitrejši in bolj usklajeni postopki med službami, ki so namenjene pomoči uporabnikom pri iskanju dela. Večkrat se je izkazalo, da pomembnih podatkov nisva mogla dobiti, saj na institucijah še sami niso vedeli, kdo določen podatek ima oz. kdo bi nama ga moral dati. Že meni se je vse skupaj zdelo zapleteno, pa sem se lahko obračala po pomoč na CSD in ZRSZ, kaj šele uporabniku, ki bi to moral izpeljat sam – precej nemogoča naloga. Našim uporabnikom bi pomagalo, če bi bil postopek vključitve v zaposlitveno rehabilitacijo krajši. Sedaj traja leto ali več, preden lahko začnejo z delom. Predvsem pa manjka delodajalcev, ki bi nudili možnost zaposlitvene rehabilitacije – morda ne poznajo programa, ugodnosti, nimajo ustreznega kadra.«
Matjaž Žvan je zelo aktiven tudi v svojem prostem času: »Treniram borilne veščine, kar pripomore k boljšemu psihofizičnemu stanju. Ukvarjam se z računalništvom in potujem po Sloveniji. Študiral sem angleščino in zgodovino. Zanimajo me zgodovinski in naravoslovni muzeji, gradovi, hodim na koncerte. Žanrsko sem neobremenjen, posebno všeč pa mi je metal. Obiskal sem tudi Dalijevo razstavo. V Ljubljani je veliko možnosti za službo, veliko se dogaja, mesto je krasno izhodišče za izlete. V 30 minutah si s kolesom ven iz Ljubljane.«
Njegov moto je Vsak je svoje (ne)sreče kovač. »Vidim, da ni vse tako črno, da ne gre kar obupat. V težkih situacijah si pomagam s treningom, grem v naravo, poslušam glasbo, se družim s kolegi. Sedaj se z nekaterimi ne vidimo toliko, ker imajo svoje družine.«
Za naprej si želi ostati tukaj, dobiti neprofitno stanovanje za naprej. Sedaj je v nujni bivalni enoti, kjer ima svojo sobo, katero lahko ureja po lastnih željah.
Ana Ivanišević Valetič zatrdi, da je g. Matjaž vložil zelo veliko truda in da danes zares s ponosom lahko reče, da mu je uspelo.
Zakaj je delovanje vsebinske mreže pomembno tudi v prihodnje?
Mreža Vključen. si s svojo dejavnostjo opolnomočenja NVO s področja socialnega vključevanja preko zagovorništva, mentorstva in usposabljanja NVO in njihovim delavcem ter prostovoljcem omogoča strokovnejše in učinkovitejše delo z uporabniki. Prav uporabnike, socialno izključene, imamo pri svojem delu pred očmi. Tako ta kot številne druge zgodbe so za nas potrditev, da nas NVO potrebujejo in da lahko s podporo NVO posredno omogočimo še več rečnih koncev, ko so ljudje našli rešitev.
Kontakt mreže
info@vkljucen.si; 030 646 943
vodja mreže: Živa Štiglic
koordinatorica mreže: Maja Žagar
W: vkljucen.si